Wednesday, 22 July 2020
by Mgt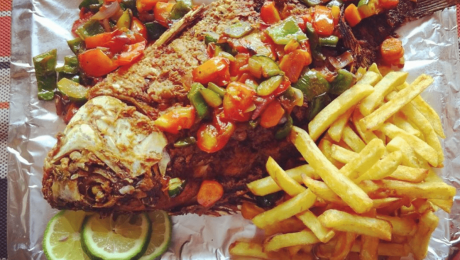 Fresh from the waters of Lake Victoria, delight your tastebuds with the best prepared whole fish around town. We're adamant no one can do it any better than us at Café Reze. We also ensure that you get value for your money by giving you appropriately sized fish. Our fish weighs at least 1 kg before preparation.
Deep fried Whole fish
This is our most popular option, marinated with a special blend and deep fried to a golden brown. Have a taste like no other.
Boiled Whole Fish
Oil may not be your thing, we get that. That's why we promise our taste won't be any different with our boiled option.
Oven grilled whole fish
Marinated and slow-cooked in an oven for a long time, we're sure you will love this. If time is not on your side, we recommend ordering ahead of time with this option.
Free sides
Our food orders come with free sides, you can pick your choice from a selection of chips, boiled potatoes, mashed potatoes, or chapatis to go along with your fish.
Order Now
Place your order here.